Multi Voices One Heart (MVOH) 2019:
"Multi Voices One Heart" Project, a Cantonese Opera Global promotion project set up in 2017, was approved by the Ontario Ministry of Culture as one of the community activities in celebration of Canada's 150th anniversary.
In the past two years, activities held locally and overseas included workshops, competition and performances in promotion of Cantonese Opera.  The activities were well-received and strongly supported by local academic institutions, cultural/art bodies in Toronto and Vancouver.  The overseas events were able to reach out to non-Cantonese speaking and young audience.
To further promote this South China culture & art, which has been approved as an intangible cultural heritage by the UN, the Project will stage a series of activities in Hong Kong, Macau, Vancouver and Toronto between June to December, 2019.  Details are as follows: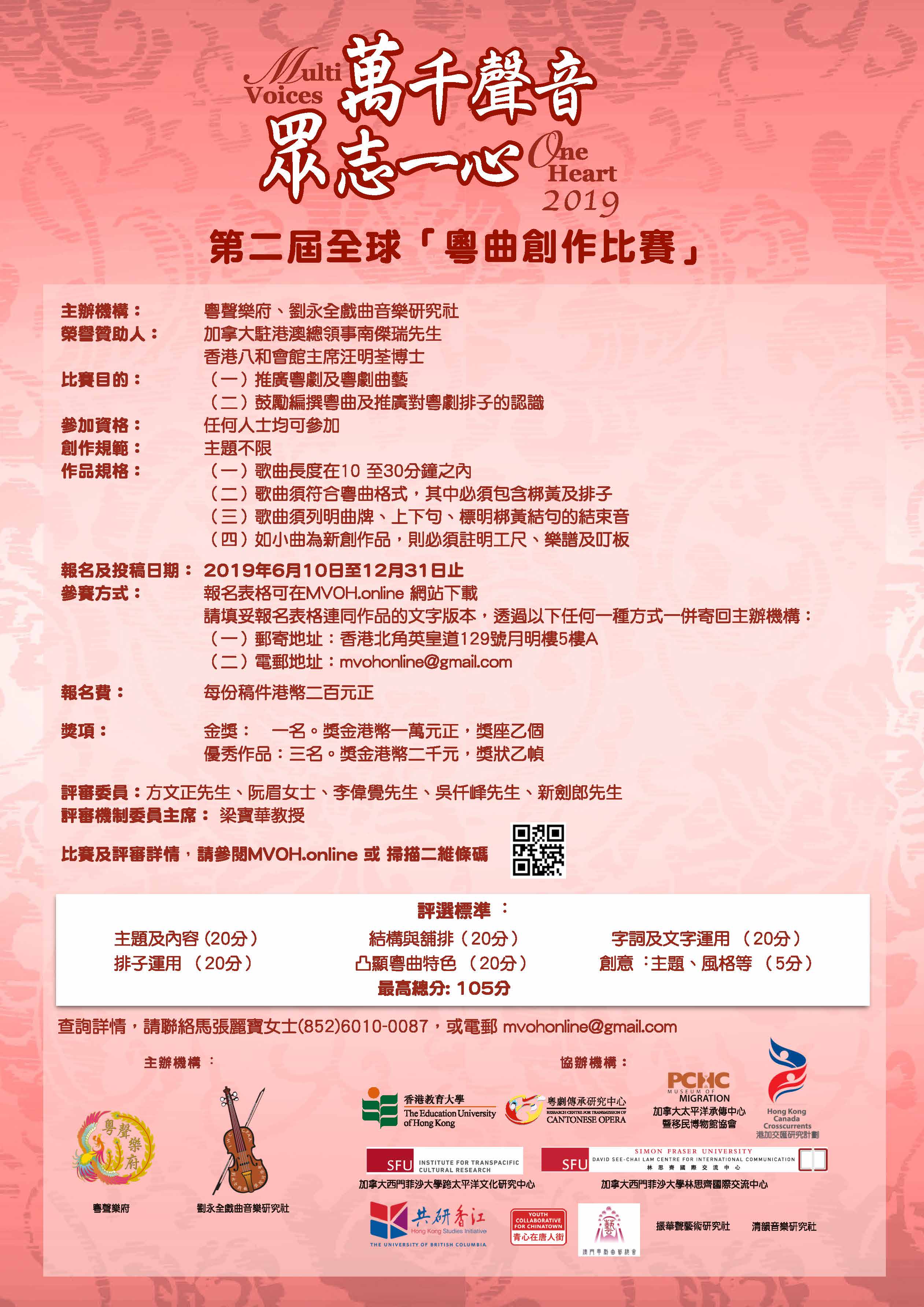 Please deposit the application fee into the following account:
HSBC: 841-306434-833 (Lau Wing Chuen)
Please download the contest form HERE
Workshop on Paai-ji (排子音樂) Music & Paai-cheung Acts (排場戲) — Building Blocks in Cantonese Opera.
Date: 2nd October, 2019 (Wed)
Time: 2PM-4:30PM
Venue: Dr Sun Yat-Sen Classical Chinese Garden (578 Carrall St., Vancouver, BC)
Admission: Free; pre-registration required (get your ticket here)
This workshop will be composed of three parts, starting with a brief introduction to Cantonese opera for people who know nothing about Cantonese opera. The main workshop will then focus on the special features and key building blocks which explain how improvisation works in Cantonese opera. There will be demonstration of some of the recognizable paai-ji music and paai-cheung acts to illustrate the desired dramatic effects in the operatic show. (See poster for more detailed info.)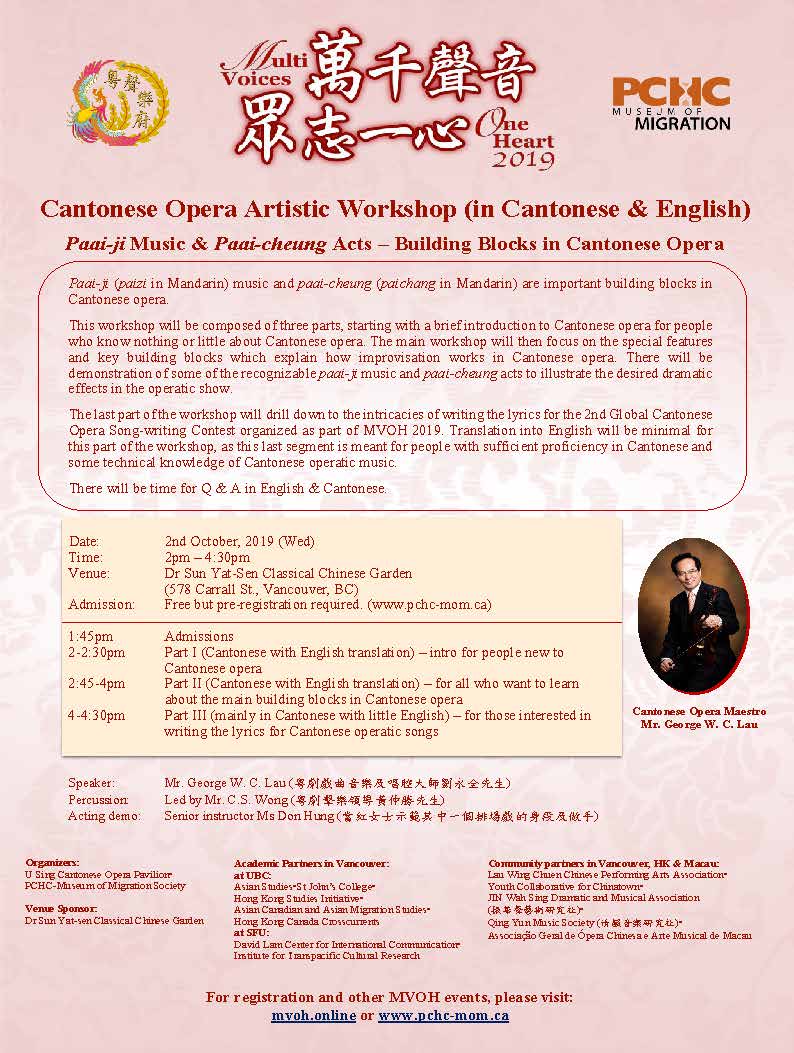 Tickets & Enquiries: Please call 1-778-6803173 (Jennifer) or email to mvohonline@gmail.com
Multi Voices One Heart (MVOH) 2018:
Indigenous Music, Opera & People from South Guangdong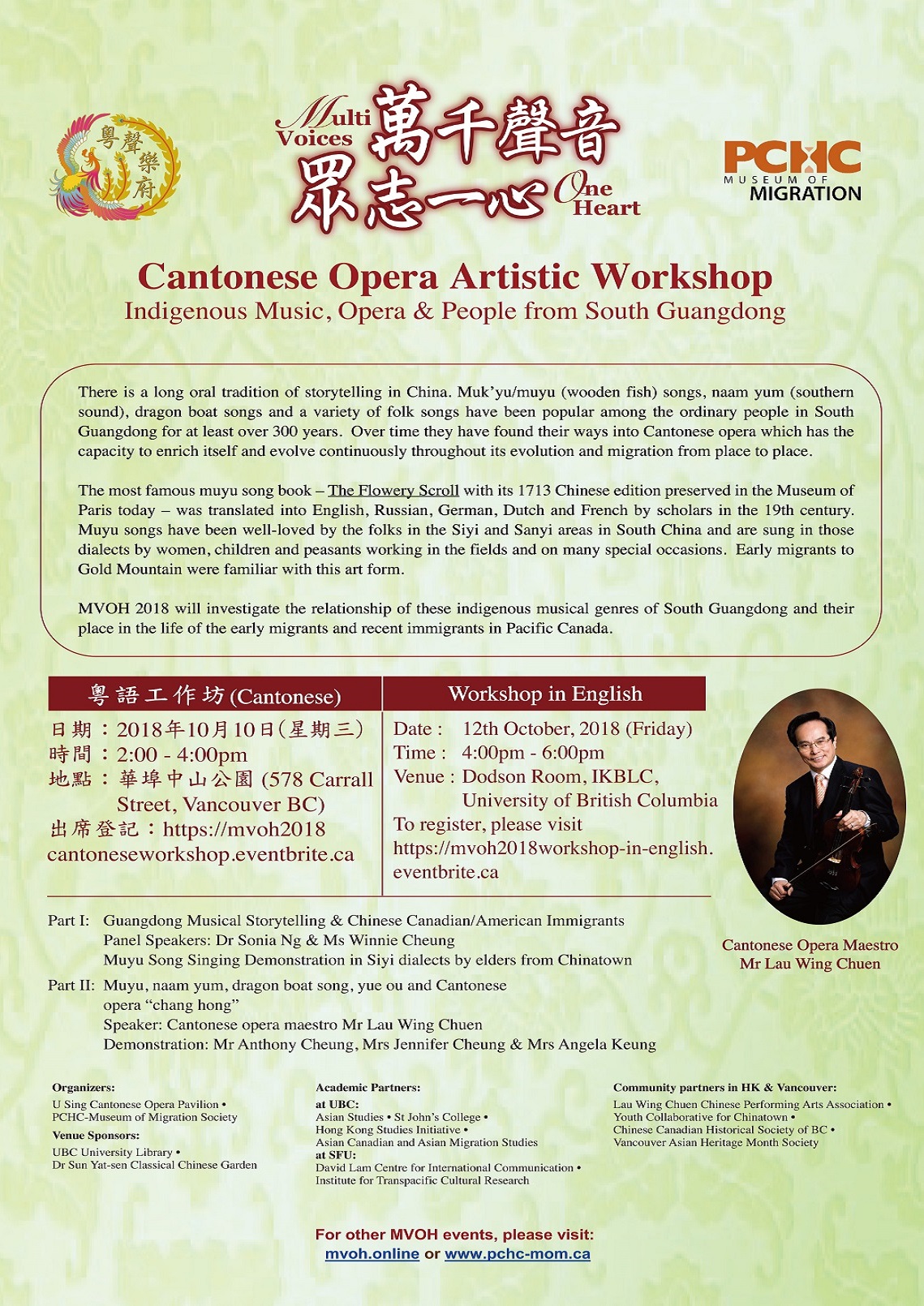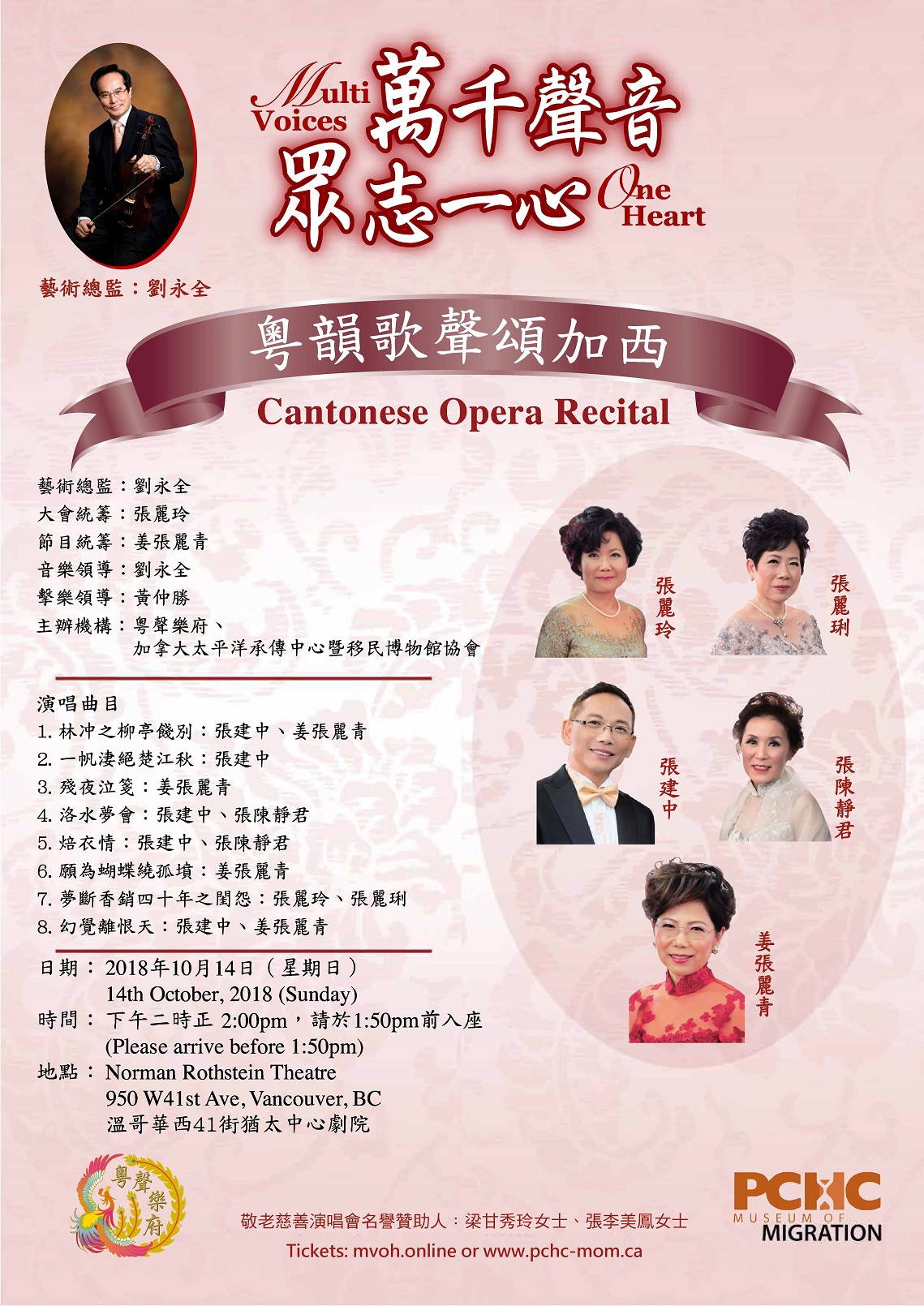 Tickets & Enquiries: Please call 778-885-4546 between 6pm-10pm or email to mvohonline@gmail.com
Following the resounding success of last year's launch of Multi Voices One Heart (MVOH) – a trans-Pacific Cantonese opera project that involved academic, artistic and community partners in three cities (Hong Kong, Vancouver & Toronto), PCHC-Museum of Migration Society and its partners are pleased to offer a sequel in Vancouver that will put the spotlight on the rich musical tradition of Chinese storytelling in Guangdong Province from where our pioneers in Pacific Canada have mostly originated.
There is a long oral tradition of storytelling in China. Muk'yu/muyu (wooden fish) songs, naam yum (southern sound), dragon boat songs and a variety of folk songs have been popular among the ordinary people in South Guangdong for at least over 300 years. Over time these musical forms have found their ways into Cantonese opera, which has the capacity to enrich itself and evolve continuously throughout its evolution and migration from place to place.
The most famous muyu song book – The Flowery Scroll with its 1713 Chinese edition preserved in the Museum of Paris today – was translated into English, Russian, German, Dutch and French by scholars in the 19th century. Muyu songs have been well-loved by the folks in the Szeyup/Siyi and Samyup/Sanyi areas (Pearl River Delta region) in South China and are sung in those dialects by women, children and peasants working in the fields. Early migrants to Gold Mountain were familiar with this art form.
MVOH 2018 will investigate the relationship of these indigenous musical genres of South Guangdong and their place in the life of the early migrants and recent immigrants in Pacific Canada.
Project Objectives:
a) To explore the role of muyu songs in early Chinese migrants' life;
b) To share the knowledge and scholarship on this "endangered" indigenous art-form and intangible cultural heritage;
c) To deepen the appreciation of the longstanding trans-Pacific mobility of people & culture; and
d) To demonstrate the lasting impact of these indigenous art forms on Cantonese opera;
Project Components:
a) Two workshops (one in Chinese and one in English & Chinese): on the indigenous musical storytelling genres and Cantonese opera, esp. muyu songs sung in popular dialects by elders in Chinatown and naam yum in Cantonese opera;
b) A Cantonese opera recital: showcasing the artistic rendition of naam yum in Cantonese opera singing; and
c) An exhibition: on rare muyu song books.
MVOH 2017 Canada 150