Multi Voices One Heart (MVOH) 2018:
Indigenous Music, Opera & People from South Guangdong
MVOH 2018 Cantonese Opera recital
Multi Voices One Heart (MVOH) 2018
Cantonese Opera Recital
Co-presented by Cantonese Opera Pavilion &
PCHC-Museum of Migration Society
Oct. 14 (Sunday) 2pm
Norman Rothstein Theatre Vancouver
ABOUT THE SONGS
Following the pair of workshops on "Indigenous Music, Opera & People From South
Guangdong" hosted at the Dr Sun Yat-sen Classical Chinese Garden and at the Irving K. Barber
Centre at the University of British Columbia on Oct. 10 and 12 respectively, all eight songs
chosen for this recital will demonstrate how the indigeneous music (especially naam yum) in
South Guangdong is integrated and further evolves artistically within the Cantonese opera
tradition.
For more information on the above topic, please visit movh.online or www.pchc-mom.ca
1. FAREWELL AT THE WILLOW PAVILION
Anthony Cheung & Angela Keung
> This song depicts a moving farewell scene between Lam Chung and his wife Virtue at the
"willow pavilion". Lam Chung is one of the 108 heroes from the world famous novel Water
Margin (also known as The Outlaws of the Marshes).
A great general and trainer for the imperial soldiers, Lam Chung unfortunately is framed by a
corrupt senior official's son who wants to marry Lam's wife. The false allegation results in a life
sentence to be served in exile by Lam. Knowing that his virtuous wife would rather die than
violate their sacred marriage vow, Lam has prepared a letter of dismissal to set Virtue free from
their marriage and begs her to accept it so that she can marry another man who can protect her
from his wicked enemy.
The dismissal states that they will never be husband and wife whether they will live or die after
the farewell. Virtue reiterated her steadfast love for Lam and refuses to accept the letter. After
Lam's repeated pleadings, she bites her finger and takes the letter to change a couple of the
words with her blood dripping from her finger and turns the dismissal into a pledge of love
pledge, stating that they will be a couple forever whether they will survive this separation or not.
Those who are familiar with naam yum (southern sound) will note a prelude with 10 "bans", one
of the unique characteristics of naam yum. Usually the prelude is just played without words, but
the composer has added lyrics to this prelude to tighten up the tempo & mood of the song. The
regular naam yum segment is followed by naam yum at "water flow" tempo to give the audience
the background story and the couple's feelings, before General Lam presents his letter of dismissal which brings out the conflicted and rich emotions of their deeply-rooted love and the
great sorrows at this last farewell.
2. A LONELY SAIL CARRYING A RIVER OF SORROW IN THE FALL
Anthony Cheung
> This is a very challenging solo with a combination of dragon boat and a particular singing style
from yue ou, which have a similar same poetic structure. Dragon boat tunes in Cantonese opera
are sung without musical accompaniment, and both musical storytelling genres demand the
singer's mastery of musical accuracy and control.
This song is a lamentation of the forced separation of loved ones by circumstances beyond their
control. The lyrics evoke a beautiful scene of red leaves along a river in the Fall.
3. WEEPING OVER A POEM AT NIGHT
Angela Keung
This is an aria from a full opera built upon the well-known love story of the famous poet Luk
Yau (Lu You 陸游; 1125–1209) of the Song dynasty when it was being evaded by foreign tribes
in the North.
Luk Yau grew up with his cousin Tong Yuen (Tang Wan唐琬), who was quiet but loved
literature. They fell deeply in love and were happily married when he was 20. They had no
children, so his mother forced them to divorce so that Luk will concentrate on studying to fulfill
his aspiration of saving the Song dynasty. Tong tries to drown herself but is saved by a nobleman
who later marries her while Luk has married a woman called Chun Ngor.
Eight years after their divorce, Luk pases by the Shen Garden (沈園) one spring day and by
chance encounters Tong and her husband. When he sees the regrets and love in her eyes, he
writes a poem on the wall before leaving to defend his country in the North. That is the famous
"Phoenix Hairpin" (Chai Tou Feng, 釵頭鳳) which makes Shen's Garden famous.
When Tong finds Luk s poem in the garden, she immediately writes one in the same form in
response. She passes away eight years later. Luk lives to an old age still deeply in love with
Tong. At age 85, he writes another poem called "Shen's Garden Revisited" to commemorate
Tong.
This song depicts Tong's sorrows on reading a poem by Luk.
4. THE ENCOUNTER ON THE ENCHANTED RIVER LOK
Anthony Cheung & Jennifer Cheung
The accomplished poet Tso Chik ( Cao Zhi 曹植;192 – 232) was the favourite son of Tso Tso
(Cao Cao) who was the King of Wei during the Three Kingdoms period of China.
This song depicts his unexpected encounter with his deceased lover Yuen Ching in a dream-like
scene over the River Lok which he is going to cross on being exiled by his older brother. Yuen
Ching has been forced to marry Tso Chik's older brother, but she jumps into the river to escape
from a loveless marriage. As Tso begs Yuen Ching to stay with him, he wakes up and realises
that the encounter has happened only in a dream.
Musically, look for the section of naam yum sung at various tempos. See how the singer
expresses his emotions through the mastery of different tempos.
5. LOVE COMMENCING FROM A SIMPLE ACT OF KINDNESS
Anthony Cheung & Angela Keung
This song describes the scene in which a young couple meets and falls in love in a dilapidated
temple where they are seeking refuge from the torrential rain. The young maiden is separated
from her family as they flee from danger caused by some riots. A brave young man steps forward
to protect her. As they are both drenched, he starts a fire and suggests she take off her clothes to
dry behind a drape that he puts up to give her some privacy. The maiden is moved by his good
manners and kindness. They fall in love there and then.
The song includes a segment sung by both in mu yu. As it does not have musical
accompaniment, the singers' mastery over tempo and musical notation is tested.
6. A BUTTERFLY LINGERING OVER A LONELY GRAVE
Angela Keung
This aria is from the famous love story of Leung San Bak and Chok Ying Toi, who disguises
herself as a man in order to attend a college. (Girls were not allowed to go to school in the old
days in china).
After three years of studying together Leung has no clue that his best friend is a woman. Upon
saying goodbye upon graduation when everyone returns home, Chok hints to Leung about her
true identity in vain, so she says she has a sister exactly like her. Leung is delighted and says he
will come ask for her hands. Unfortunately when he arrives at the Chok Residence, it is three
days too late: Chok is betrothed to another man as arranged by his father. Leung dies out of grief.
On her wedding day, she begs for permission to make a detour to visit Leung's grave and is
broken-hearted on seeing it. Suddenly a strong wind arises with thunder and lightning. The grave
breaks open and she jumps in. Leung and Chok are transformed into a pair of butterflies and fly
about happily together forever.
After the opening tune, pay attention to the unique section of naam yum called "cyclical naam
yum" where lyrics for each pair of sentences are exactly the same, but the 2nd sentence is a
reversed version of the 1st. This is a unique expression in naam yum that shows one's eternal
feelings which go in circles without end. The singer is caught in a cyclical trap of emotions.
7. BOUDOIR SORROWS
Lily Cheung & Winnie Cheung
This beautiful but challenging song from the opera based on the love story of the Poet Luk Yau
(see story in song number 3 above) is rarely sung at concerts for various reasons.
In this duet, the poet's second wife Chun Ngor learns that her husband ex-wife is sick and goes
to visit her. She knows her husband is still deeply in love with Tong Yuen, and is very
sympathetic to the ill-fated lovers. When Tong reveals how she cannot share the same dream
with the man who now shares a bed with her, Chung Ngor replies that she understands because
she also has the same experience with her husband. The complex emotions and the inner
struggles they have are musically rendered in their heart-rending confessions.
The song includes a duet of naam yum sung in "yi fan" tune, the unique Cantonese tune for
sorrowful expressions. The audience should listen to how the two ladies deliver their own
sadness and helplessness through the musical treatment in this piece.
8. THE ILLUSIONARY WORLD OF LOVE AND REGRETS
Anthony Cheung & Angela Keung
This is one of the well-known songs from the opera based on the classical novel called The
Dream of the Red Chamber .
Legend goes that in their previous incarnation Bo Yuk is a precious stone and Doi Yuk is a
precious herb which has only survived because of Bo Yuk's watering and caring. This has
created a special bond between them. When they are incarnated as a man and a woman, they
become best friends and lovers.
The song describes the final meeting of the ill-fated lovers on earth. In his grief on learning his
true love Doi Yuk has died of sorrow because he has been tricked into marrying another woman,
Bo Yuk blacks out. When he comes around, he finds that Doi Yuk has returned to her former self
as a fairy. She tells Bo Yuk that their relationship on earth has come to an end as she has repaid
him all the tears she owes him. When he realises it has been jsut a dream, he sadly throws away
the piece of jade that he is known to be born with, a symbol of all the love and troubles that have
been with him in this life.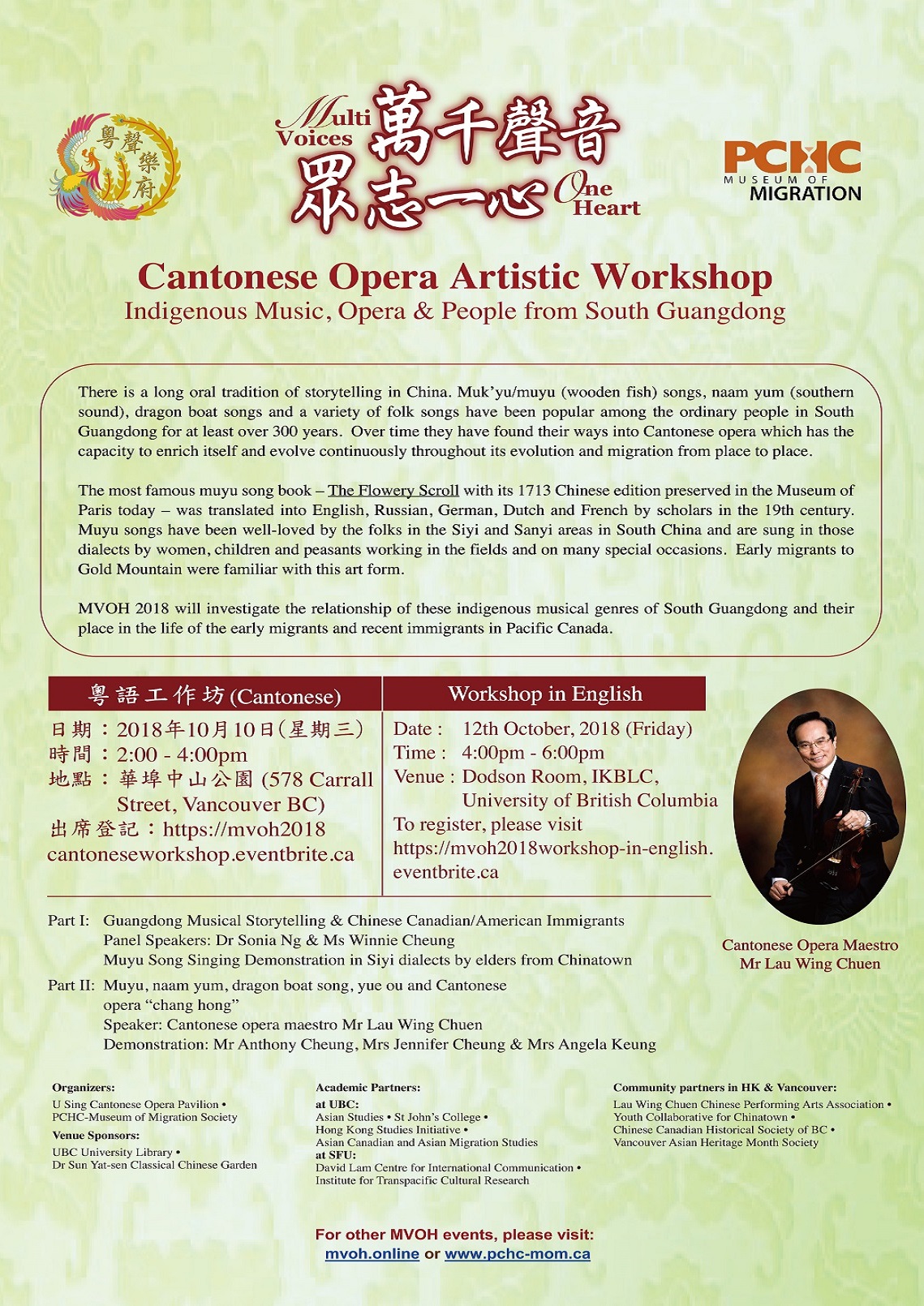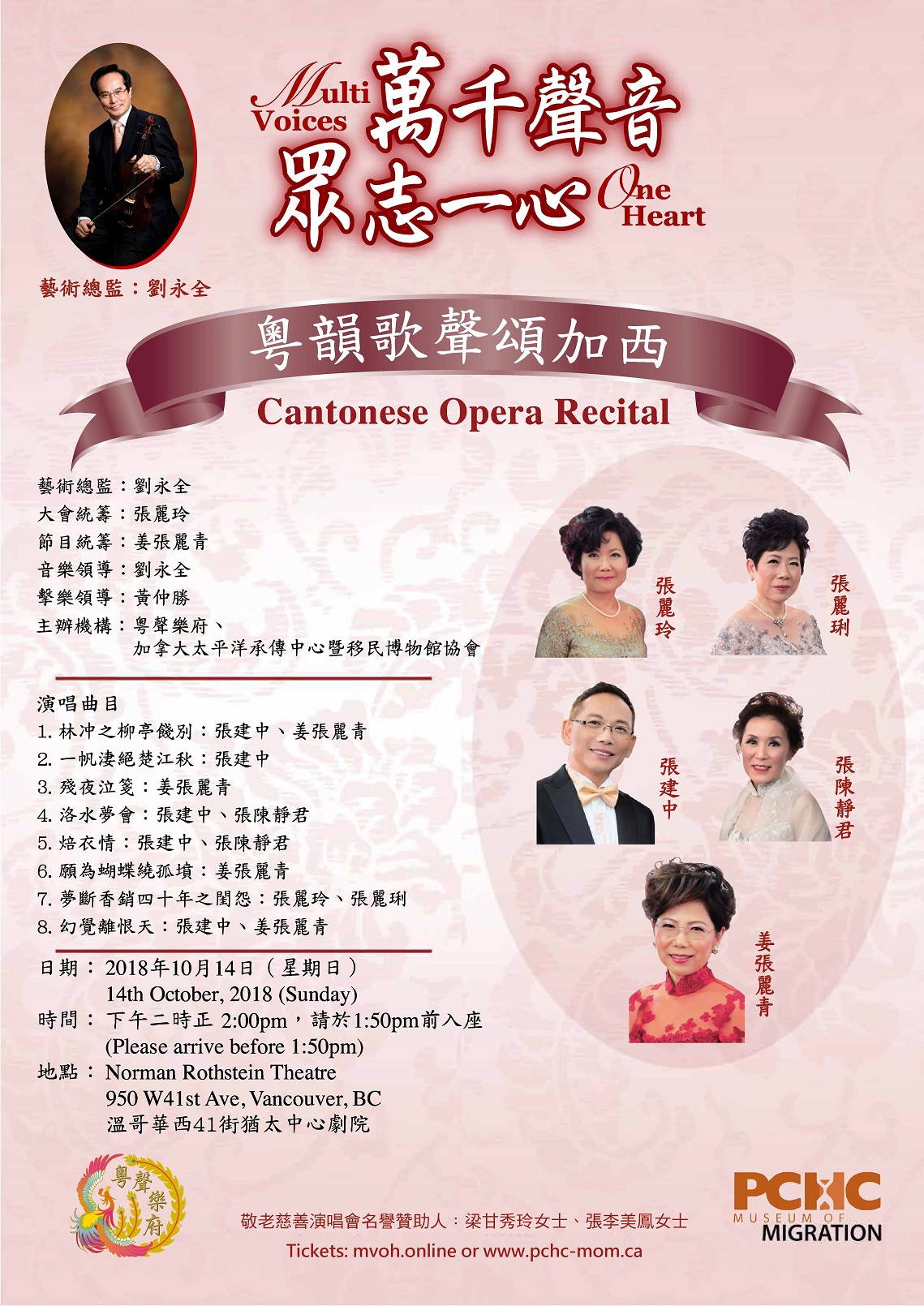 Tickets & Enquiries: Please call 778-885-4546 between 6pm-10pm or email to mvohonline@gmail.com
Following the resounding success of last year's launch of Multi Voices One Heart (MVOH) – a trans-Pacific Cantonese opera project that involved academic, artistic and community partners in three cities (Hong Kong, Vancouver & Toronto), PCHC-Museum of Migration Society and its partners are pleased to offer a sequel in Vancouver that will put the spotlight on the rich musical tradition of Chinese storytelling in Guangdong Province from where our pioneers in Pacific Canada have mostly originated.
There is a long oral tradition of storytelling in China. Muk'yu/muyu (wooden fish) songs, naam yum (southern sound), dragon boat songs and a variety of folk songs have been popular among the ordinary people in South Guangdong for at least over 300 years. Over time these musical forms have found their ways into Cantonese opera, which has the capacity to enrich itself and evolve continuously throughout its evolution and migration from place to place.
The most famous muyu song book – The Flowery Scroll with its 1713 Chinese edition preserved in the Museum of Paris today – was translated into English, Russian, German, Dutch and French by scholars in the 19th century. Muyu songs have been well-loved by the folks in the Szeyup/Siyi and Samyup/Sanyi areas (Pearl River Delta region) in South China and are sung in those dialects by women, children and peasants working in the fields. Early migrants to Gold Mountain were familiar with this art form.
MVOH 2018 will investigate the relationship of these indigenous musical genres of South Guangdong and their place in the life of the early migrants and recent immigrants in Pacific Canada.
Project Objectives:
a) To explore the role of muyu songs in early Chinese migrants' life;
b) To share the knowledge and scholarship on this "endangered" indigenous art-form and intangible cultural heritage;
c) To deepen the appreciation of the longstanding trans-Pacific mobility of people & culture; and
d) To demonstrate the lasting impact of these indigenous art forms on Cantonese opera;
Project Components:
a) Two workshops (one in Chinese and one in English & Chinese): on the indigenous musical storytelling genres and Cantonese opera, esp. muyu songs sung in popular dialects by elders in Chinatown and naam yum in Cantonese opera;
b) A Cantonese opera recital: showcasing the artistic rendition of naam yum in Cantonese opera singing; and
c) An exhibition: on rare muyu song books.
MVOH 2017 Canada 150